Communiqués
Promote
your business,
products, services


Communiqués

Valorisez
vos affaires,
produits et services
Le 4 avril, le ministère de la Culture et de la Communication, en présence d'Andrea Zlatar Violic, ministre de la Culture de la République de Croatie, a dévoilé l'avant-programme du Festival de la Croatie en France (septembre - décembre 2012).
Total value of prizes: 5.000€

Deadline for entries: March 10, 2012.
Ukupni fond nagrada: 5.000€
Rok za prijave skladbi: 10. ožujka 2012
Translation Technology: Localisation
An Online Course -27 April - 17 July 2009
Background
This an exciting new course on software and games localisation run in collaboration with the Humanities department at Imperial College London, to be delivered by e-learning spanning a total of 11 weeks.
Private users have adapted quickly to the web 2.0 revolution. They're communicating in a brand new way — social networks, video sharing and blogs are all part of most people's daily life. Now it's time for businesses to benefit from the opportunities offered by collaborative Web services. October 21st 2008, Yoolink will launch a new 2.0 service for small and middle-sized companies.
| | |
| --- | --- |
| | Appointment of leading independent law firms in Croatia and Slovenia strengthens MSI Global Alliance in Europe's emerging economic regions. Latest appointments increase MSI's European law firm membership to 50 firms, ensuring entrepreneurial, middle market clients have access to the full range of commercial advisory services across the region. MSI membership acknowledges our standing in the Adriatic region and will benefit our clients, other member firms' clients, and our future professional growth |
International Law Firm Association Expands Presence In South-East Europe
September 20, 2008
Tourism Report 2008
Summary: Tourism Overview Foreign tourist arrivals were up a strong 7.5% year-on-year (y-o-y) in 2007 to 9.3mn arrivals, resulting in one of the best tourist seasons on record in Croatia. Latest data for the first two months of 2008 show foreign arrivals up an impressive 21% y-o-y to some 126,000. This reflects to some extent the strong growth rate, albeit a lower 13% y-o-y, recorded over the same period in 2007.

Text Available in German
Vertriebsnetz in Mittel- und Südosteuropa ausgebaut, Tochterunternehmen in Slowenien eröffnet
19 July 2008 - Reinhard Kluger
Beckhoff Avtomatizacija commenced sales business in Slovenia in the middle of May 2008 with the opening of a new branch office in Medvode in North Ljubljana. The distribution partner for Croatia is also new. Beckhoff has thus further expanded its position in Central and Southern Europe in order to increase customer acquisition in the former Yugoslavian states.

Text Available in English
Vertriebsnetz in Mittel- und Südosteuropa ausgebaut, Tochterunternehmen in Slowenien eröffnet
19 Juli 2008 - Reinhard Kluger
Mit der Eröffnung einer neuen Niederlassung in Medvode, im Norden Ljubljanas, hat Beckhoff Avtomatizacija Mitte Mai 2008 seine Vertriebstätigkeit in Slowenien aufgenommen. Ebenso neu ist der Distributionspartner für Kroatien. Damit hat Beckhoff seine Position in Mittel- und Südeuropa weiter ausgebaut, um so verstärkt Kunden in den Ländern des ehemaligen Jugoslawiens zu gewinnen.

ANZAG Acquires Majority Stake in Lithuanian Pharmaceutical Wholesaler Armila Jul. 16, 2008
FRANKFURT - Andreae-Noris Zahn AG (ANZAG)(GER:ANZ)(FWB:FANZ) yesterday signed a share purchase agreement to acquire a 92-per-cent stake in Lithuanian pharmaceutical wholesaler JSC Armila. "By acquiring Armila, we are expanding our business in foreign markets, and so reducing our dependency on our home market of Germany, and our vulnerability to cyclical fluctuations here," says Thomas Trumper, Chairman of the Board of ANZAG.


ANZAG übernimmt Mehrheit am litauischen Pharmagroßhändler Armila ANZAG übernimmt Mehrheit am litauischen Pharmagroßhändler Armila 16. Juli 2008
Frankfurt - Die Andreae-Noris Zahn AG (ANZAG) übernimmt 92 Prozent der Aktien des pharmazeutischen Großhändlers JSC Armila in Litauen. "Mit der Akquisition von Armila bauen wir unsere Auslandsaktivitäten aus und reduzieren so unsere Abhängigkeit von Schwankungen und Entwicklungen im deutschen Heimatmarkt", sagt Dr. Thomas Trümper, Vorstandsvorsitzender der ANZAG.
Pedersen & Partners, a leading international executive search firm, announced today that it has acquired 100% shares of the leading Croatian executive search firm Alter Modus. Alter Modus will change the firm's name to Pedersen & Partners, and the current Pedersen & Partners subsidiary will be phased out.

The owner and manager of Alter Modus, Sanja Brkic-Fakles (sanja.brkic-fakles[at]pedersenandpartners[dot]com), will join Pedersen & Partners along with her team and business activities. As of today, Ms. Brkic-Fakles is the Country Manager for Pedersen & Partners, Croatia. Teams from both companies are working closely to ensure that during the integration process the existing clients continue receiving high quality executive search service.
48e Festival international des enfants à Šibenik

du 23 juin au 7 juillet 2008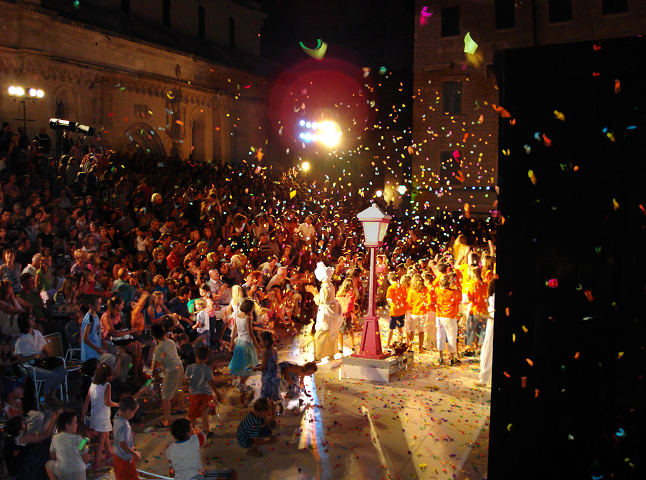 Comme chaque début d'été, le Festival international des enfants ouvre ses portes dans la cité dalmate de Šibenik. Durant deux semaines, la vieille ville médiévale et Renaissance se dédie aux tout-petits et aux enfants, leur proposant un florilège de spectacles et de chants. Les professionnels et les amateurs viennent de toute l'Europe pour participer ou assister à l'événement culturel de la région.
Oxford business group


Accession to the EU in 2007 has been the major driver of change in Bulgaria of late, and the country is working to come on line with its new EU neighbours on the political and economic front.
The country has seen consistent growth in foreign direct investment (FDI) over the past three years, and both the industrial segment and tourism look particularly strong. The banking sector also looks set to continue to enjoy good health, as the injection of EU funds into various programmes will require co-financing from banks. A tough agricultural season in the summer of 2007 led to rising prices and climbing inflation, though the government is confident that domestic measures aimed at boosting the supply side, as well as continued investment, will help cool off the economy in 2008.
Business Support at Your Doorstep
Welcome to the Enterprise Europe Network, your gateway to competitiveness and innovation. Wherever you are in Europe, you can get access to all the information you need to develop your business and find the right business partners.

Speaking the language of business across Europe
T

he network

offers support and advice to businesses across Europe and helps them make the most of the opportunities in the European Union. Our services are specifically designed for small and medium enterprises (SMEs) but are also available to all businesses, research centres and Universities across Europe.
Sletio prvi od četiri nova zrakoplova Croatia Airlinesa
ZAGREB - U splitsku zračnu luku danas je sletio prvi od četiri zrakoplova Dash 8-Q400 kanadskog proizvođača Bombardier Aerospace, kojima će nacionalna zrakoplovna kompanija Croatia Airlines zamijeniti svoju flotu kratkog doleta, izvijestili su iz Croatia Airlinesa.
TORONTO, ONTARIO : Bombardier Aéronautique a livré le premier de quatre biturbopropulseurs de ligne Q400 commandés par Croatia Airlines, de Zagreb, en Croatie, dans une transaction annoncée le 4 juin 2007. Croatia Airlines détient des options sur deux autres Q400.

L'avion a été reçu et accepté par Vanja Roller, vice-présidente exécutive, entretien et ingénierie de Croatia Airlines au cours d'une cérémonie tenue au centre de livraison de Bombardier Avions commerciaux, à l'aéroport international Lester-B.-Pearson de Toronto.

"C'est le début d'une nouvelle ère dans l'évolution de Croatia Airlines, a déclaré M. Roller. Nos Q400 de 76 places nous permettront d'harmoniser la capacité sur des liaisons où la demande ne justifie pas l'utilisation de nos plus gros avions à réaction. Grâce à sa vitesse, nous pourrons également déployer le Q400 sur des liaisons plus longues en limitant les temps de vol supplémentaires. Tout ceci est sans parler des excellentes caractéristiques écologiques du Q400."
TORONTO, ONTARIO : Bombardier Aerospace has delivered the first of four Q400 turboprop airliners ordered by Croatia Airlines of Zagreb, Croatia in a transaction announced on June 4, 2007. Croatia Airlines holds options on two additional Q400 aircraft.

The aircraft was accepted by Vanja Roller, Executive Vice-President Maintenance and Engineering of Croatia Airlines during a ceremony at the Bombardier Commercial Aircraft delivery centre at Toronto's Lester B. Pearson International Airport.
ICOGRADA ENDORSES THE CROATIAN DESIGN EXHIBITION 0708
Icograda endorses the fifth edition of the Croatian Design Exhibition, organised by the Croatian Designers Society.
The Exhibition, along with the accompanying publication and National Designer Convention, will present a survey of the best designer works created in Croatia in last two years. The Exhibition, with related events (exhibition of "CDS Prize for Lifetime Achievement 2007" awarded designer and convention), tries to establish an appropriate platform for an open dialogue on the quality of design and designers in Croatia today, to improve professional standards and to give immediate insight into the changes of current designers' production that have taken place in the period under review.
Call for submissions
[...]
At a board meeting on April 15th 2008 management of Manas Petroleum Corporation reported that all projects reached their milestones on time and are within the budget.
Albania (Blocks A, B, D and E; Manas working interest: 100%)
Euro adhoc: SW Umwelttechnik Stoiser & Wolschner AG - Government Contracts - SW Umwelttechnik gets E 2m order in Romania
Goldman Sachs names its twenty top UK picks
Goldman today launched the UK "conviction calls" list to highlight the best ideas of its equity analysts across all sectors. The recommendations will run alongside its pan-European stock selection, which has been in operation since April 2006.